RipTide Threads uses Tajima commercial embroidery machines. They're known as the most accurate in the industry and can sew up to 15 colors. These machines require a .DST file to run which tells the machine where to stitch, where to stop, and when to change color. The process of changing a picture or logo into a .DST file is known as digitizing.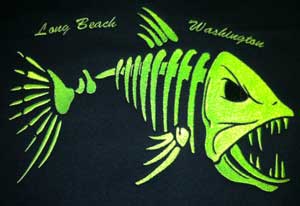 If you have artwork or a logo you can send it directly to us via email. If you have an idea for a design, check out our online catalog of designs. Send us the file number from the catalog and we can easily add lettering to make you a custom design. If you already have a digitized design in .DST format we can use it… only we cannot be held responsible for poor digitizing from another vendor.
After we digitize your design we'll do a stitchout and send you a photo of it for your approval. Once we get approval from you we can begin embroidering. It sounds pretty complicated but it's really not. These steps can take place by the next business day.
Digitizing is a onetime fee. Once we have your digitized design we can run it countless times.
Digitizing cost: Left chest and hat designs are $40. Jacket back designs may be more depending on the size and will be quoted by the job.
Logo sizes: Maximum sizes for hats are 4" wide x 2 1/2" high. Left chest designs can be up to 4 1/2" x 4 1/2" square. Chest and jacket back designs up to 15" wide x 12" high.