Appliqué is the art of sewing shaped pieces of fabric onto a foundation fabric.

Appliqué makes a stunning addition to any hoodie or T-shirt and is especially suited for High School or town names. The combination of appliqué and regular embroidery stitches makes your design pop!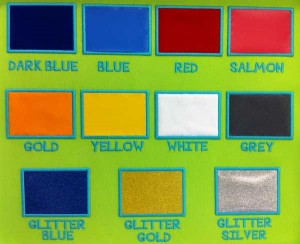 We carry several colors of appliqué material including: Dark blue, blue, red, salmon, gold, yellow, white and grey. We also have glitter in blue, gold, and silver. We use Athletic, Brush, and Futura font and number sets in 2, 3, and 4 inch. The material is tacked down and outlined in virtually any color. This gives a bold, dramatic look to almost any garment. See the photos for these available colors and fonts.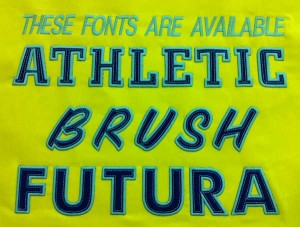 We carry most any color of threads for the tack down stitching.
Simply pick a garment and send us your request. We will digitize it and email you a sample for your approval. Then we will stitch your garment and ship it.
There are certain size restrictions… 15" wide and 12" high. Some longer words or names may not fit. For the 2 inch letters, between 8 to 10 letters usually fits.
| | | | |
| --- | --- | --- | --- |
| Catalog | Embroidery | Signs | Direct to Garment |